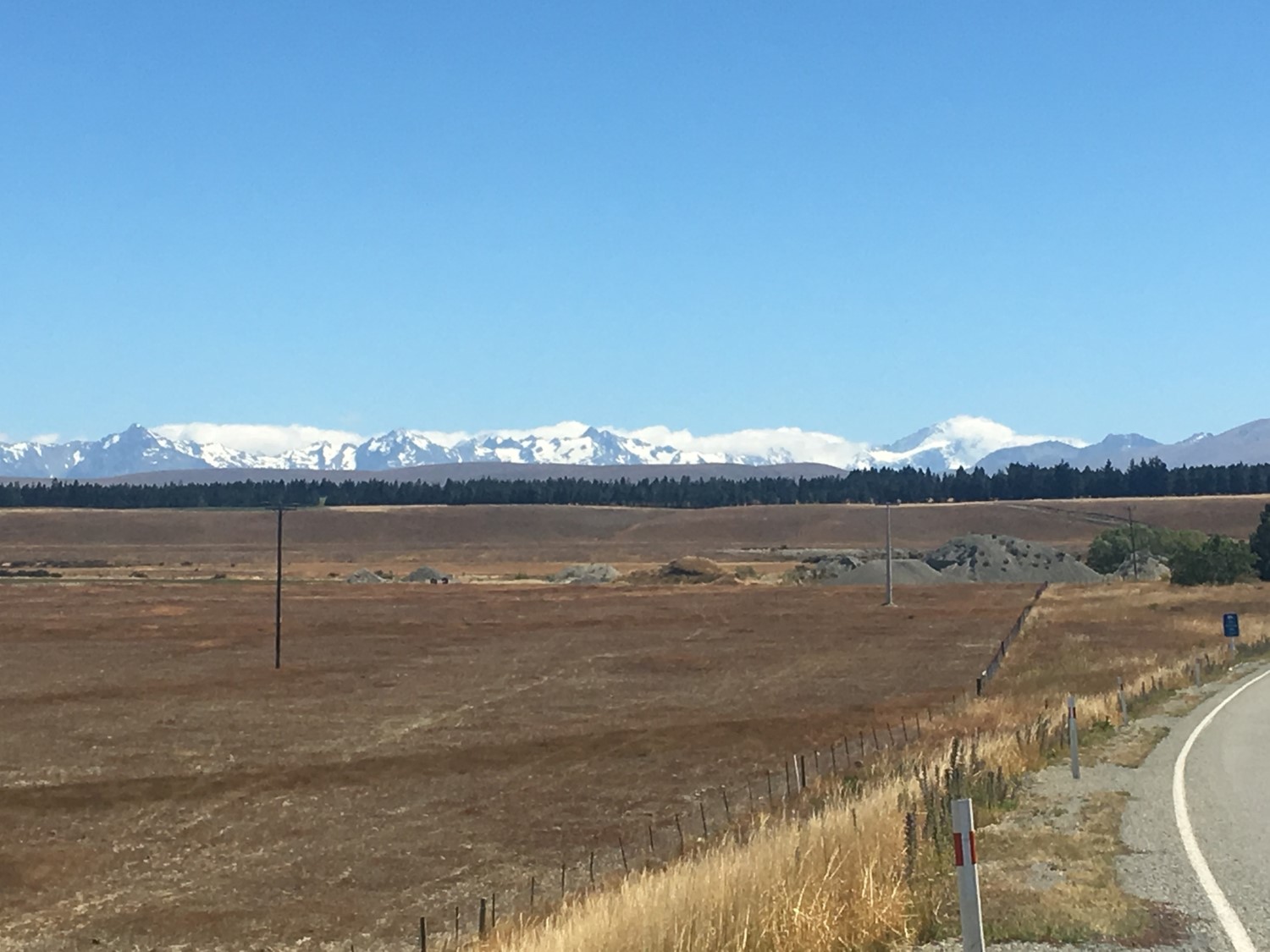 Jan 30th, Tekapo, New Zealand
I got a late start out of Geraldine (1/29), but this gave me a chance to talk with Peter Aldous, a local astronomer, about JWST. Peter has a very impressive amateur
observatory
that he makes available for public use. He was up until 1 AM the previous night, with a group of tourists looking at the Milky Way. He is also looking for supernova, and has discovered several.
10 miles into the ride, I passed a place with a sign that read, "Brewery Café," which turned out to be exactly what it said it was. I didn't dare have any beer so early in the day, and with all of the hills in front of me, but I took a bottle along for later (OK, I had just a taste of their IPA). I chose the "Star Gazer" ale. It had a hefeweizen feel to it, but it was very good.
The day proved to be very hot, and I had a hard time getting hydrated. The hills and the heat really took a toll on me, and I started feeling quite sick (stomach). That tends to happen to me when I push myself hard in the heat–the main reason I am in New Zealand instead of Australia. I was really surprised by this sudden burst of heat. It was even somewhat overcast
Because of the fatigue, I decided to stop early in the town of Fairlie, making the jaunt to Tekapo a two-day ride instead of the single day I had planned. There were several other cyclists who made the same choice, and I had a lot of company in the campground. When I checked into the campground, I paid for a GByte of internet and explained to the host that I wanted to watch Dr. Who, since we can't get that on-demand anymore in the USA. His response was something like, "Now what's that about? No Dr. Who? Why, I'd figure with Donald Trump as president, you folks ought to be able to have pretty much whatever you want!"
I got on the road today (1/30) to finish up the ride to Lake Tekapo. It rained a bit last night, and the weather turned cold. The clouds did not boil off till mid afternoon.
On the way, I passed this neat little spot on the road that had a lot of antique stuff, and this classic Chevy with its original paint job. You can't see it in the photo, but this car had black California plates on it!
Later I passed this monument which was erected 100 years ago. It reads, "O ye who enter the portals of the MacKenzie to found homes, take the word of a child of the misty gorges, and plant forest-trees for your lives. So shall your mountain facings and river flats be preserved to your children's children and for evermore."
The mountains in the distance were spectacular, and what forrests remain are certainly worth preserving.
This was the driest part of New Zealand that I have experienced yet. It could easily be Eastern Colorado or Wyoming.
My friend, Thad Walker, has put me in contact with some people in the Physics Department at the university in Dunedin, so I will get to give one more presentation before leaving this fine country! Tomorrow should be an easy ride, with good tailwinds, to the town of Omarama. I will try to post an entry there.
Cheers
Scott