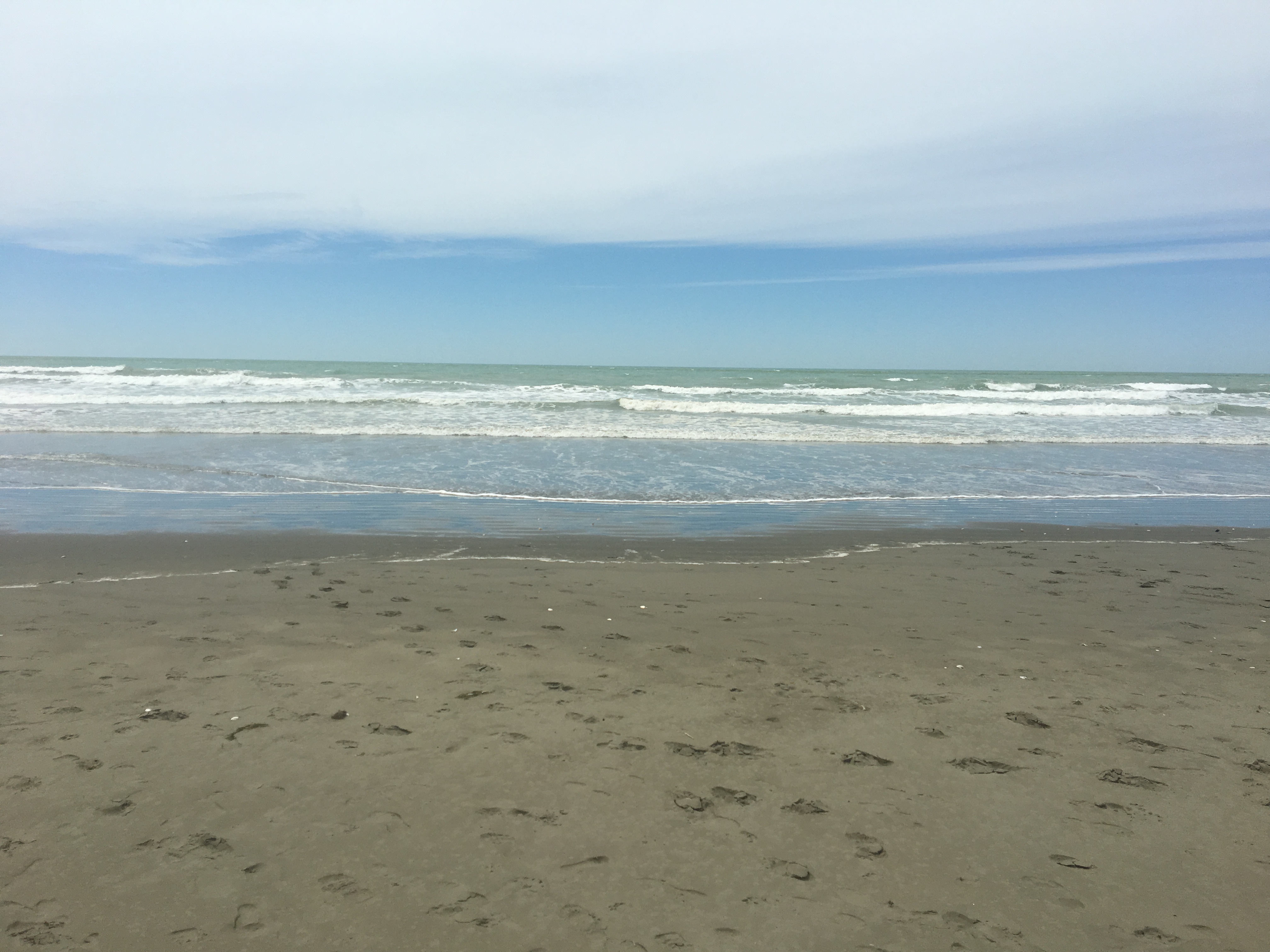 Jan 26. South New Brighton, New Zealand
I've taken several days off in Christchurch and spent most of it soaking up the hospitality of John and Adrienne. John and Adrienne are both devout vegans and it has been so refreshing to be eating healthy for a change! I started staying at the home of their daughter and son-in-law, who were away on holiday. After two nights, we all moved to John and Adrienne's actual place, which is near the beach in the Christchurch suburb of New Brighton. I am there now and will get on the road to finish up the South Island tomorrow morning (1/27). Last night, we went outside to take a look at the Southern Cross, something I have not seen since living in Hawaii. The southern sky was amazing! I tried to take a few pictures with my phone, but–hey–it's an iPhone after all, not a scientific instrument. The constellations all looked upside down, an artifact of my inability to reorient myself to the southern hemisphere. I had a good view of the Andromeda galaxy and a number of globular clusters within the Milky Way.
Last Saturday (1/21) I was given a tour of Christchurch by Jane Pearce, the person who booked me for a lecture at a local pub. Jane took me to a brewery (by my request) and I tried a couple of the local beers.
I was struck by how much of the central city of Christchurch has still not recovered from the Earthquake of Feb. 2011. Literally, the entire city center was destroyed, nearly 6 years ago. I don't remember it being that bad, but it clearly was.
One of the iconic buildings in Christchurch was nearly destroyed. Here is a picture of Christchurch Cathedral, prior to the quake:
I'm including a shot prior to the earthquake because I hope it will be restored to its original condition. Meanwhile, the Anglican congregation that used to meet there is now meeting in a temporary building that is constructed primarily out of cardboard.
I went to church there last sunday! (How could you not? Seriously, a **cardboard** building!). The chairs were made out of lumber reclaimed from the quake. When I first saw these, they looked like they had a serious design flaw, since the horizontal sections at the back should split along the grain. A closer examination, however, shows that this feature is intentional; a steel rod holds it together and allows for flexing when occupied.
Leave it to me to go all the way to New Zealand and be fascinated with the design of a chair, but that is the way I am.
On the way to my current location (South New Brighton), I was using google maps to navigate, listening to instructions with ear buds. I saw a man across the street who was waving at me and saying what sounded like, "Hey–are you a cyclist?" I was in a sort of a bad mood so I found myself thinking, "What clued you in? Was it the bike jersey? The cycle shorts? The BIKE?" I took the plugs out of my ears and he repeated himself. I was mistaken. He had said, "Hey–are you that scientist?" The local paper had run an
article
about my project that morning. And, I do tend to stand out a bit. It was nice to meet someone interested in astronomy and my year-long project.
Hey–speaking of astronomy I gave a presentation at the Pegasus Arms Pub, to an audience of nearly 60 people. It was a great group of folks, mostly members of the local chapter of "Skeptics in a pub." Those of you who know me well, know that I am a "theist." (Not to be confused with atheist.) Still, I found much in common with these people who, like myself, clearly love science and use it to determine truth in the universe.
Well, it is Jan 26, and it has been nearly 10 months since I left Boulder to bike. I am approaching the end of the tour. I need to decide if I will go to Cuba or not. A number of people have expressed an interest in cycling through Cuba with me, but so far, I have no takers. I have decided that I do not want to cycle in Cuba by myself. I am waiting to hear from one other person, but in all probability, I will put that country off for a time in the future. But we will wait and see! If you are interested in riding with me, now is the time to speak up! It only takes one other guy–preferable Spanish-speaking–and I will do it!
Cheers,
Scott