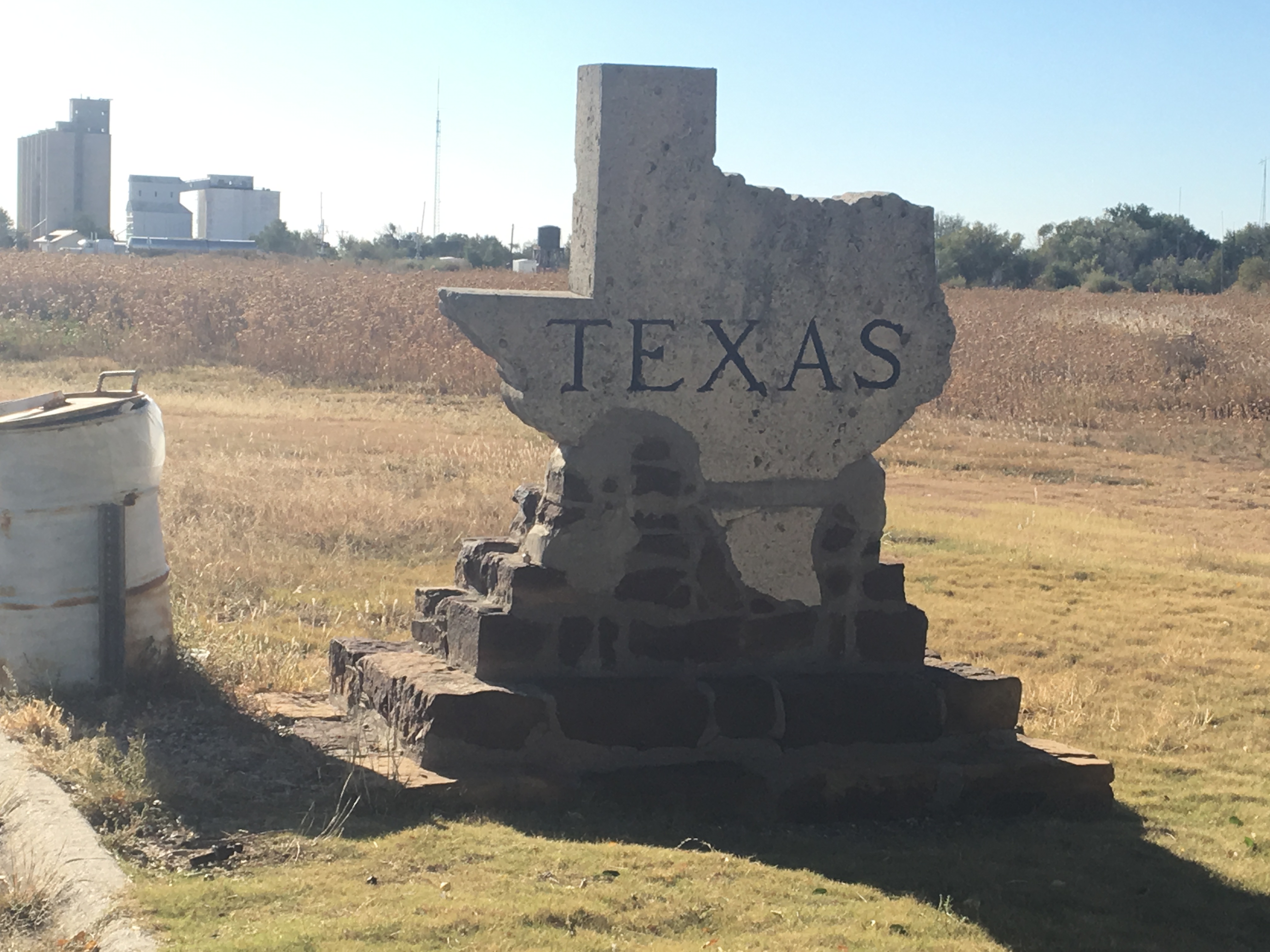 Oct 19, Canyon, Texas–a new personal record
I left Boise City this morning with my goal to get to Dumas, TX and back on my original schedule. I knew that the winds would be picking up around 9 AM, but from the north. Since I was heading south, I figured that I would make some good time. I probably should have left at 8:00, but any earlier and I would have been riding before the winds started. In other words, this late departure was a strategic decision.
After riding only 1 hour, I had covered over 20 miles. This part of the country is quite flat, and with the wind at your back, you can moving pretty quickly, with very little effort. Even allowing for a break along the way, I made the 70 miles to Dumas before 2:00. This is a lot of fun! You are probably thinking that 20 mph is not that fast. But compared to a ride into the wind, it was light speed.
There is probably a life lesson here somewhere–I never could have enjoyed yesterday without the headwinds two days earlier.
Now the big question–do I try to ride another 46 miles into Amarillo, or stop in Dumas? Since the winds were projected to stay from the north–although diminishing somewhat–I decided to give it a go. However, whereas I climbed only ~200 feet in the first 70 miles, the next 46 would involve 1400 feet of climbing. Even so, I had a good 5 hours before sunset and figured I could make it.
As I approached Amarillo, a thought occurred to me. City center would be a total of 116 miles for the day. If I could tack another 14 miles onto the ride, I would break my personal touring record of 129. I had to go for it, right? I googled me a campground that was in the right direction and more than 14 miles away and went for it. The sun set at 7:00 and it began to get dark, so I turned on my tail light and head lamp. I passed the 130 mile mark, and then headed another 1.5 miles to the campground.
About 0.75 miles short of my goal, I saw that the road went down into a deep canyon–this was not good. If the campground did not work out, I would be looking at a tough climb out, after an exhausting day. But what could I do? It was almost totally dark, and I was nowhere near anywhere.
Turns out that I made a bad choice–in my zeal to break my record, I also broke an important rule: never trust Google for campgrounds; always call to verify first. It turns out that this was Camp Don Harrington, a Boy Scout camp, and not an RV park.
The camp ranger, Ken Hutson, was quite sympathetic to my plight. In the end, he gave me a ride–back up the hill I had come down–to a Motel 6, where I spent the night. Thanks Ken! Seems like I remember one of the tenants of the Scout Creed is to help others. I am humbly thankful for that.