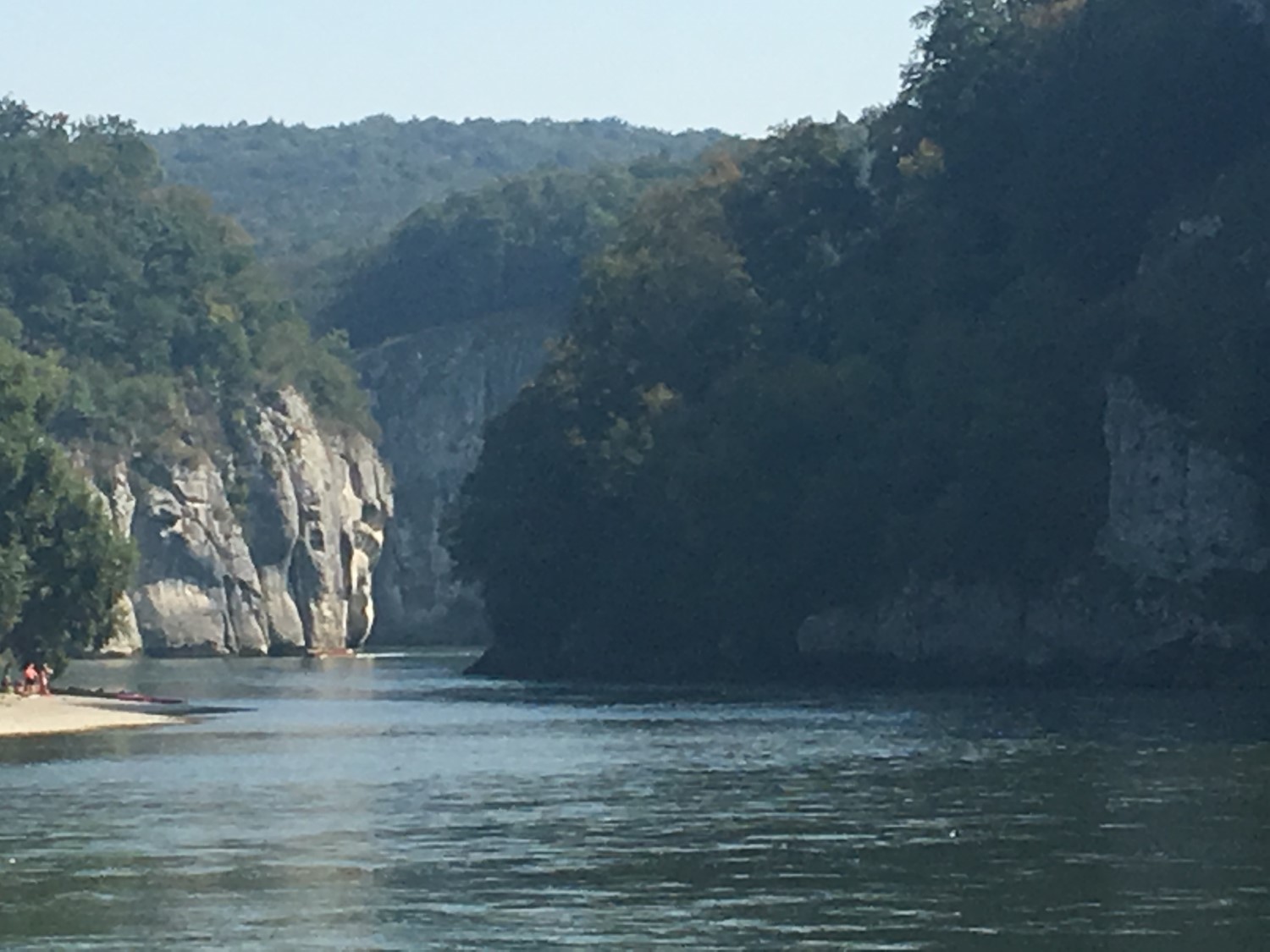 Sept 13th, Winzer, Germany
On Sept 11, I woke up early to a very wet tent. It seems that the composite materials in my Big Agnes ultralight are very succesptible to condensation. I guess that is the cost you pay for a medium size then that weighs less than 1 kg for everything–ground tarp, tent, poles, stakes and fly. I set the tent to drying out, and got ready for a later-than-usual departure. The ride out of Bad Goegging took me through miles and miles of hops.
These massive plants grow about 15 feet high, climbing what appears to be strings of some kind which come with the plant when it is harvested. I passed large buildings where they dry the hops for use in beer production. From the looks of it, hops production seems to be the dominant activity in this area.
While riding through the hops, I was confused about the route because the recommended roads differed from my guide books. An older man and his wife came to my aide. The man spoke about 5 languages, but no English. He did speak Russian, however, a language that I am familar with. So between my limited ability in Russian and German, and his with English, we had quite a conversation. It is amazing just how well you can communicate with someone, without anything approaching fluency, provided the context of the discussion is well-established, the scope is limited and you have at least some familiarity with multiple languages. The gentleman established that, yes I did indeed want to take the new route, and I did.
Eventually, I came to the section of the Danube that I wanted to avoid by taking a ferry. The ferry takes you from Frauenberg to Kelheim.
See those cliffs in the distance? Without the ferry, I would have to cycle over those and the hills behind them. The official bicycle route actually shows the ferry ride, so I opted to go with it. The ticket was 8 Euros for me and my bike.
Along the way, a tour-guide gave a description of the area, talking about its history…Romans, the Catholic Church and Napoleon.
The next hour or so after the ferry ride made for a dilema. There were several campgrounds near the city of Bad Abbach, but then nothing for another 50 km. If I camped in Bad Abbach, I would have an impossibly long day for the ride to Winzer tomorrow. So, even though it was nearing 4:00 PM, I decided to just put my head down and crank. 105 km for the day, and I barely made it to the city of Straubing before sunset. I also developed the beginning of saddle sores for the first time on the tour; I've really got to watch that.
Normally 105 km would be easy. If you are heading east, for example, in Kansas, 105 km would be considered an easy day. But when you throw in the need to ride on dirt, cobble stones, getting lost, city traffic, and avoiding baby strollers, 105 km is TOUGH. It really takes it out of you. I try to never go more than 80.
At the campground I talked with a fellow who was also a scientist and on a bit of a sabatical, riding his bike. I slept late the next morning. When I got up I saw a familiar face–another guy that I had met several days earlier at a different campground. His name is Georges; he has a very detailed blog about his many bicycle adventures:
The ride (Sept 12) to Winzer was easy and I took my time with it. I arrived at the home of Seigi and Doris Leitl, who offered to let me stay for a couple of days. Seigi is a member of the "Sternwarte Winzer," a local astronomy club.
Seigi took me to see the local observatory that has been built and operated by volunteers from the community of Winzer. It is really quite impressive what they have done: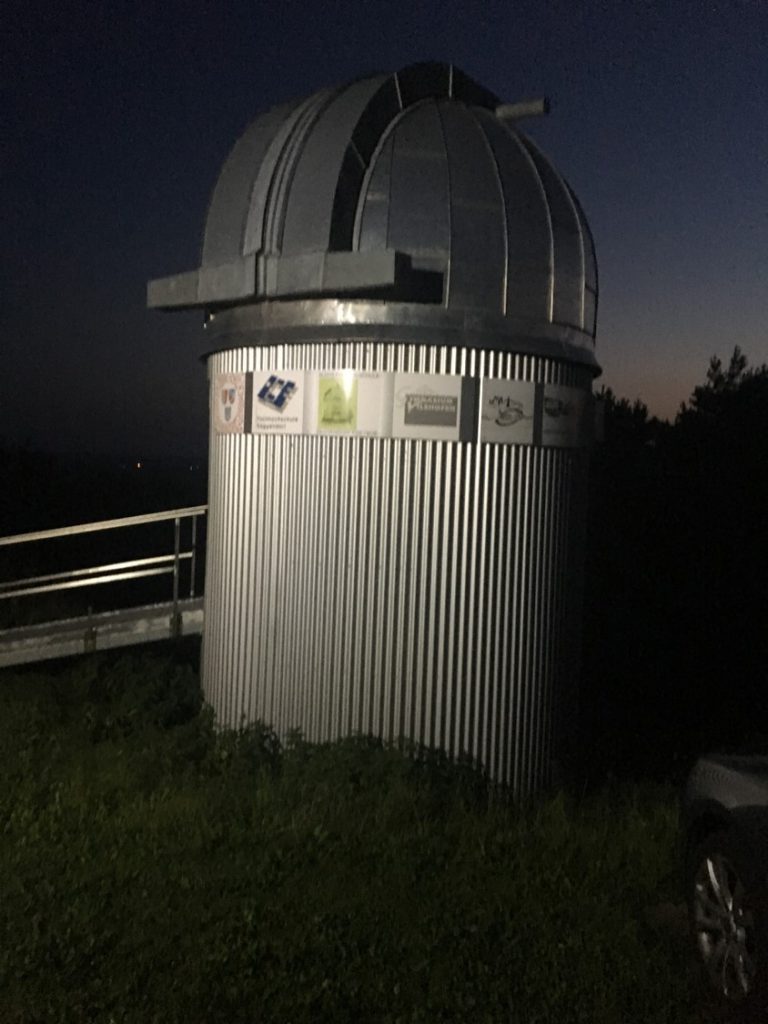 The telescope dome actually used to be in the Federal Republic of Germany and was brought to Winzer after the reunification. You can't see it here, but the dome is made of wood.
One of the memebers of the club was present with his own homemade 8-inch Newtonian telescope. I saw the clearest image of the Cassini gap in Saturn's rigns that I have ever seen with naked-eye observing.
But what has really impressed me is their planetarium, also built entirely by volunteers. The dome for the planetarium is of the geodesic variety, consisting of 360 precision cut triangles. The triangles are made of thin oak boards, and covered with bed sheet material. They are held together in the shape of a dome with cable ties–two per interface. The light source is a video projector and a special lens with a 120 degree field of view. The output of a laptop computer generates the night sky. It is really neat!
Tonight (Sept 13) I gave a talk at the Deggendorf Institut of Technology. The local newspaper ran an article about the lecture and the turn out was good–about 60 people. Earlier in the day, Dr. Robert Geigenfeind gave me a tour of their research and educational facilities. There are getting set up to start polishing large optics, using some innovative techniques. It is a very good facility.
Tomorrow morning, I need to get on the road so I can get to Vienna in time for my next talk. It is going to be at the Institute for Quantum Optics and Quantum Information; Austrian Academy of Sciences. I think these are the people that conducted a successful teleportation experiment!
Later,
Scott