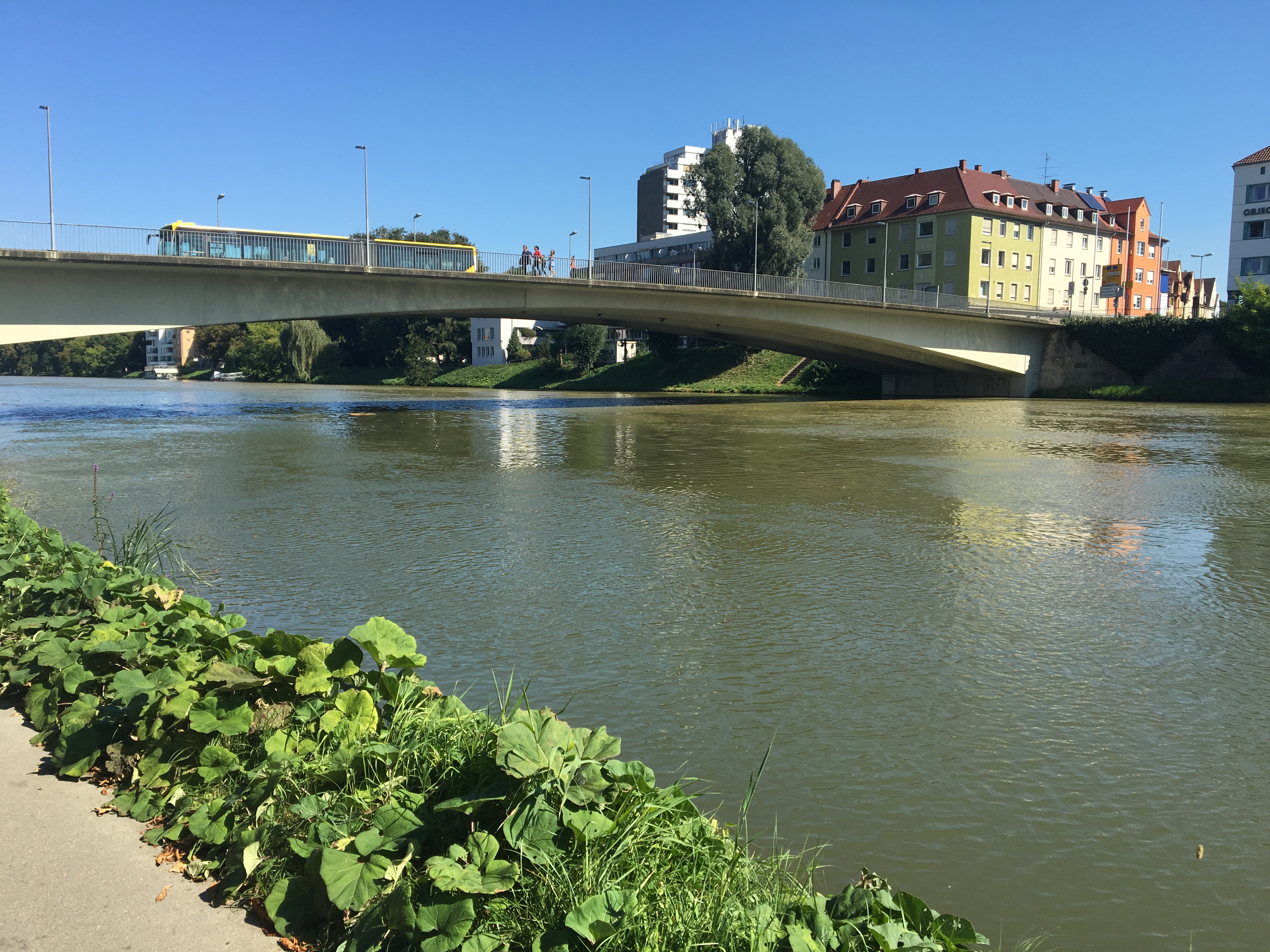 Sept 8, Gunzburg, Germany
Hi folks, I am in Gunzburg, Germany at a very nice campground. I woke up this morning to a heavy fog (in the air, not my head). As such, everything is really wet and I have to wait a couple of hours for things to dry.
The day before yesterday (Sept. 6) was an interesting day. I started out riding across these beautiful fields of grass. The air was a little chilly and there was a slight breeze. The sky had just a few clouds. This is the frustration about trying to describe this experience: I can show you pictures of what I see, but how do I show you an experience? Here is a picture in any case:
At one point, I met a large group of cyclists from France. They were touring the Danube path using nothing but the signs along the route. I helped them  out with my own maps and navigation tools. We ran into each other on and off throughout the day, including this rather steep hill:
They had no paniers and a couple of them tried to ride it; I knew better.
I stayed at a really nice  place that night; it was a small campground run by a family and associated with a hotel/restaurant. These folks were so helpful to me–they let me sit in their restaurant all morning to work on my computer.
Yesterday's ride was completely free of hills; I think I have finally got to the flat part of the ride. This is sort of how I always pictured the route. A path through a long linear part along a river:
I met a father and his son biking and we talked for a while. He wanted to know where I had planned to camp. I showed him the ACSI campground  on the map, but he had identified another campground in the community of Gunzburg. A close look at my map showed the little camping symbol, right at the bottom. I had missed it because part of it was  printed off the page. We agreed that this was probably the campground he was thinking of and we decided to meet up at the campground. He and his son were faster than me, and I still had to stop at the store, so we parted.
When I arrived near the campground, an older man approach me and asked me (in German) if anything was wrong. I explained that I was just looking for the campground. And, he informed me that it had been closed for years. Rats!
I decided to check it out anyway, because it was getting late and all I really needed was a spot of grass to pitch my tent. Then, another fellow–Karl–approached me on a bike. And, yes indeed the campground was closed. I asked him what would happen if I stayed there anyway–would the police arrest me? I did not understand his response, but I decided to head there. There were signs everywhere indicating that it was closed, and it was pretty run down. A few minutes later, Karl showed  up on his bike and made me a deal. If I would follow him back to his house and have a coffee and a beer, then he would drive me to the campground. It turns out that a new campground had recently opened, and it was not on my map. Karl, and his wife Mary Lou, had just returned from vacation in Italy and the bike rack was still on their car. So, I got a coffee, a beer and some good conversation. Here is a picture of the three of us:
Nice folks! I was happy to see the man and his son there at the campground that I had met earlier and we talked about our children for a while.
Today needs to be 80 km for me to stay on schedule, so I will bid you goodbye.
Scott