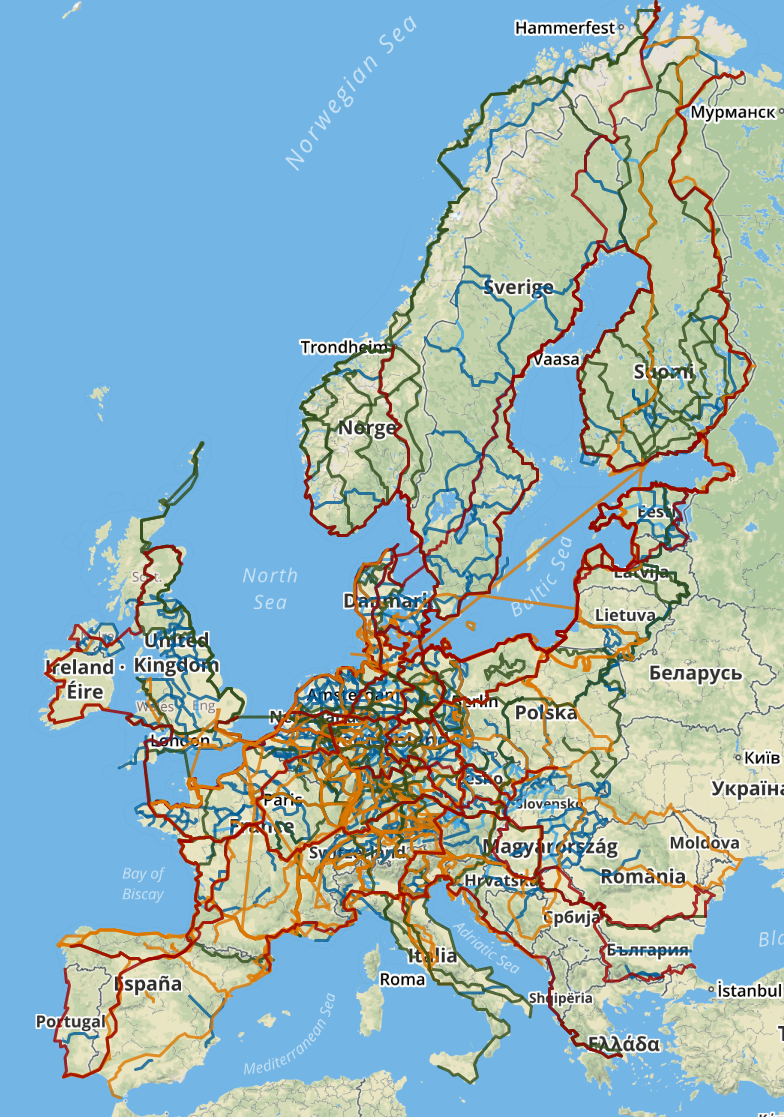 September 3, Catching up in Freiburg
Hi Folks,
It has been a nice and restful break these couple past days in Freiburg. I have been staying with my friends Dirk and Connie Soltau; they have been wonderful hosts. It has been very nostalgic being back in Freiburg after so many years. The Munster Platz–a favorite place of mine–is still there, along with the church.
I gave a seminar at the Kiepenheuer Institute on Thursday and it went quite well. Many people were present and there was a lot of discussion.
Tomorrow, I will take a train to the Danube Bike Path trailhead and will start a ride to Budapest. In this post, I will also add a couple of things that have been on my mind, but perhaps not the subject for a dedicated blog post.
Praise for Camelback!
I have a UV water purification system made by Camelback. It is called the "All Clear (TM) Water Purifier." All you have to do is fill it with water and push a button–the water is safe to drink in 60 seconds. I don't really need it right now, but there are countries I plan to go to where I definitely would not want to drink the water out of a tap. And, it is useful whenever I draw water from a questionable source, regardless of the country. The problem is that the battery powered UV light source stopped charging. A couple of weeks ago, I called the customer service number for Camelback and explained the situation to them. They shipped a replacement unit to me at the Kiepenheuer Institute, free of charge–Just like that, no questions asked. These guys are great!
Reflections on France
In the United States, there is a general understanding that the French hate Americans. I have been told that if I go to a restaurant and speak in English, I will not be served. There is the view that French people are arrogant and rude. I honestly don't know where this comes from! I was prepared for this as I entered France and, for my entire time in the country, encountered the exact opposite. Every person I met–and I mean everyone–along a street or path greeted me with a "bonjour!" When I stopped to talk with them, they were nice, open and helpful. At campgrounds, the French people would frequently share their food with me and offer many other kinds of help. I honestly have never encountered more friendly and wonderful people in my entire life.
When relaying this experience to friends back home, I would hear, "Well, you need to go to Paris. In Paris you will be treated poorly." But I met many people from Paris and they are as friendly as everyone else! I am embarrassed that I ever allowed myself to buy into a stereotype, a prejudice, that is apparently without foundation.
I suppose that I did encounter one example of discrimination, but that was when I was acting like a jerk (when I went into the hotel lobby with my bike.) So, perhaps the secret is that, if you treat people well, they will return it in kind.
When I met a French person, I would greet them in French that then ask permission to speak in English. If they knew English, they said yes. If not, then I tried Google translate. But it was always civil and friendly.
Google Maps for Bicycles
Several days ago, I received a rather rude Email from a complete stranger. The person said that he was getting bored reading about my struggles navigating and, boy, he could sure do better and did back in the day…
I thought to myself, "Wow! You are bored with my navigation challenges?" I had assumed that 100% of my blog was boring. There are actually parts of the blog that are not? Thanks for the compliment!
OK–but I need to clear some things up. I am NOT using Google Maps to bike across Europe! I use it on occasion to get to a local service, or to find one. And, I did experiment with a multi-day route to see a better half of Switzerland. But I don't generally navigate with it. What I do use is data taken from a website that lists about a million miles of cycle routes in Europe. Here is a map that shows the complete network:
Every line in that plate of spaghetti is an actual bicycle route! They have been planned out to avoid traffic and challenging terrain as much as practical. Some of them are listed as "being developed" and others as "completed." Think of the effort that it took to put this together! Tens of thousands of hours of collective experience would be an understatement.
You select the route you want…
… and can zoom in all you want:
Each route can be download in a GPX format, which is a type of XML. Your navigation device or app reads in these formats. I don't regret using the electronic navigation, but I do wish I were using a Garmin system rather than an iPhone app.
Well, I need to pack it in for today. I will try to update progress along the Danube as often as I can.
Cheers,
Scott