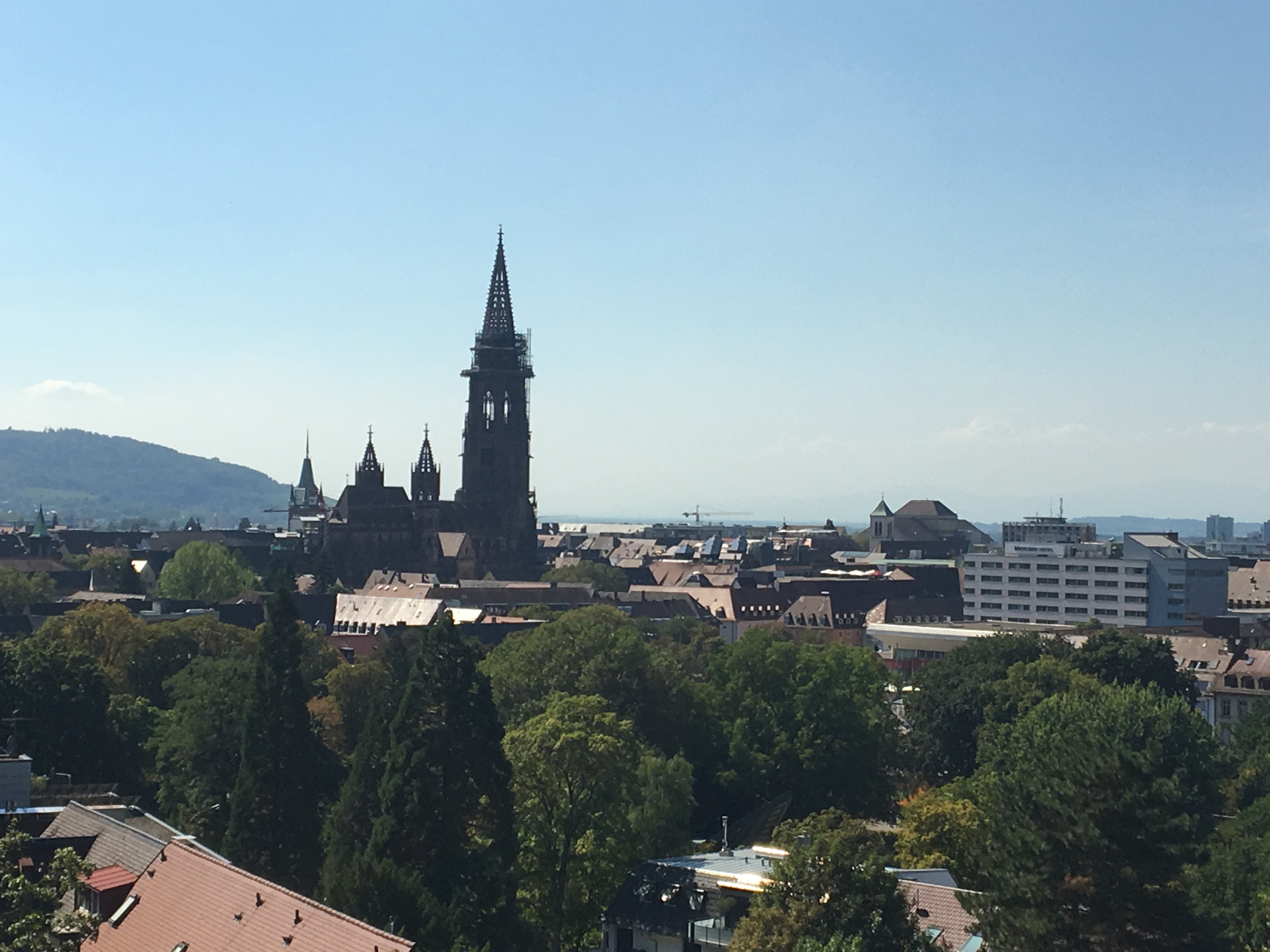 August 31, Freiburg, Germany
Hi guys, I made it to Freiburg! Just a quick update for now. At some point, the road signs and language abruptly switched to German; my guess is it happened when I switched Cantons. I left Grasere late and, as such, stopped after only about 35 km. I didn't have it in me to make it to the next campground, which was all the way to Basel (about another 65 km or so). The short day gave me a chance to get some work done, and get to bed early. It was hard getting out of town the next morning, but worth it–what beauty in architecture!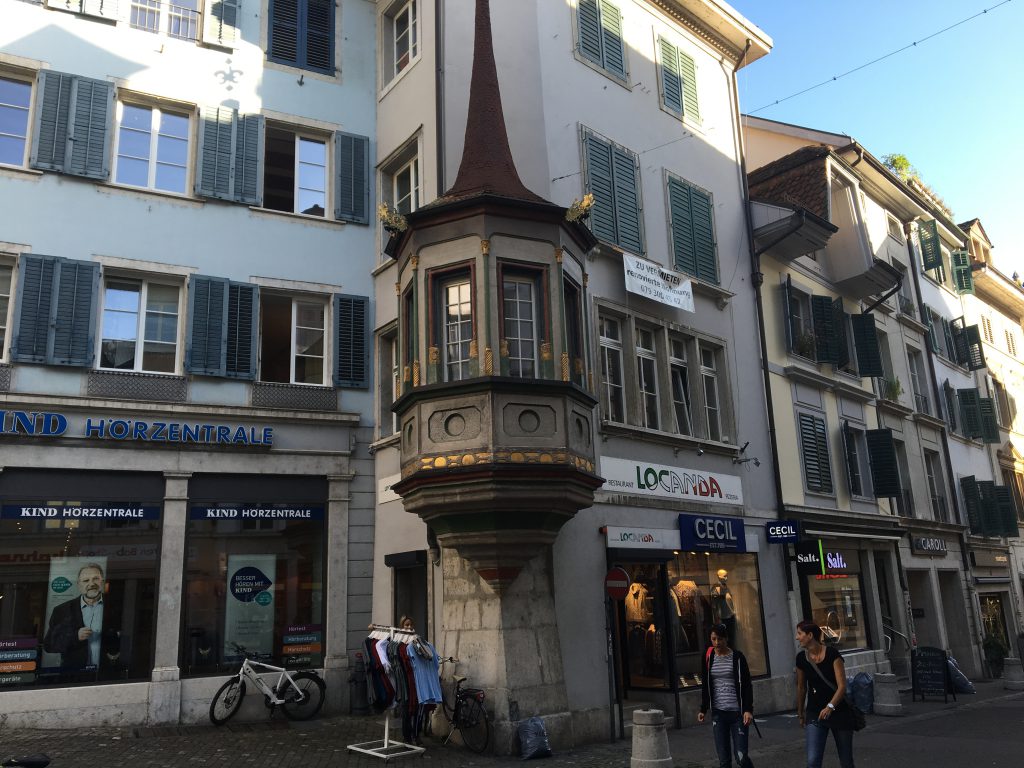 The day's ride needed to be right at 100 km, so I didn't have much time to waste. Much of the ride was through an agricultural region.
As one point, I passed through a town and just happened to look off to my right–it was a bike shop! I stopped in and introduced myself. My main purpose was to get my hands on some of these map booklets that I had seen other people using that have detailed descriptions of the Danube Bike Path. Each page in the book is about 10 km, and it fits on top of your handlebar bag. They did not have one, but directed me to a shop in Basel called Veloplus. Here are the two follows I talked with:
I gave Veloplus a call and found that they indeed did have the books! I could not be certain that I would be able to find them in Freiburg, so I knew a detour was in order. Riding through Basel was difficult–so many turns, stop lights and traffic. But what a wonderful place!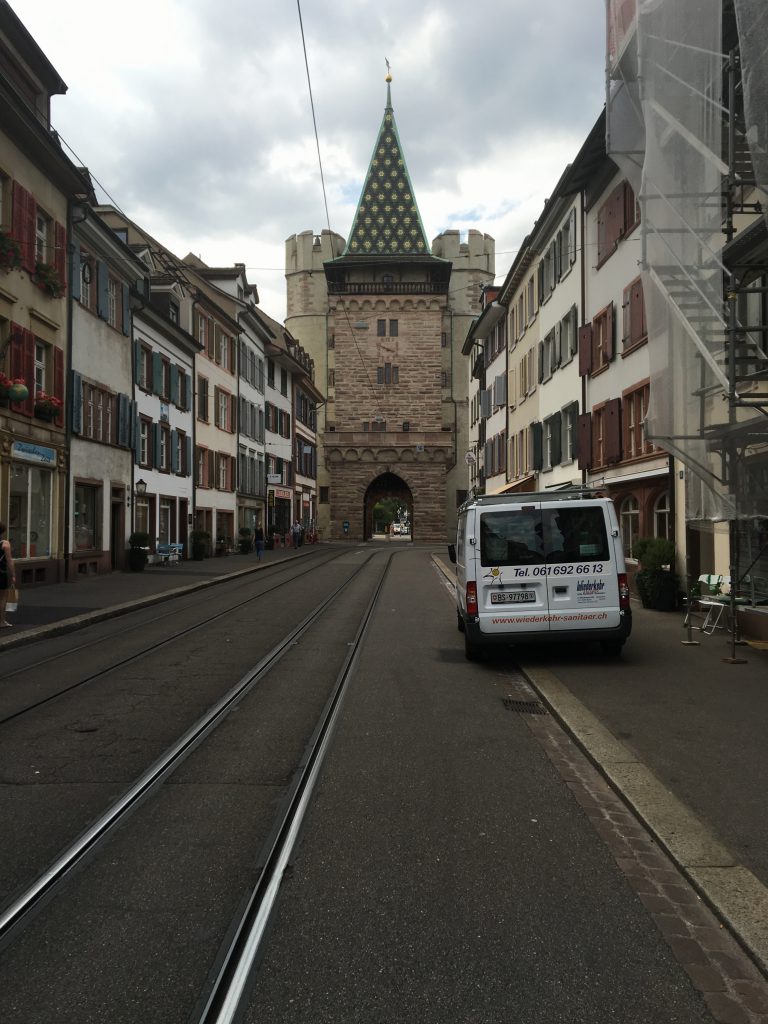 The border crossing into Germany was as uneventful as crossing into Switzerland, except this time I knew when it happened. The Rhine River separates the two countries, and I came to Germany. Another 25 km or so, and I arrived at a nice campground that was somewhat up the hill from the river. I was pleased to find that the cost was 13 Euros–about half of what I had been paying in Switzerland.
Today, the final ride (50 km) into Freiburg was quite easy. Half of it was along a high-quality dirt path that paralleled the Rhine river.
Entering into Freiburg brought back a lot of memories. I spent about 9 months here a long time ago with my wife and daughter Stacy. (John was not born yet). Tomorrow, I will give a seminar at the Kiepenheuer-Institut fuer Sonnenphysik. My plan is to then work a couple of days before heading to the Danube River trailhead on Sunday.