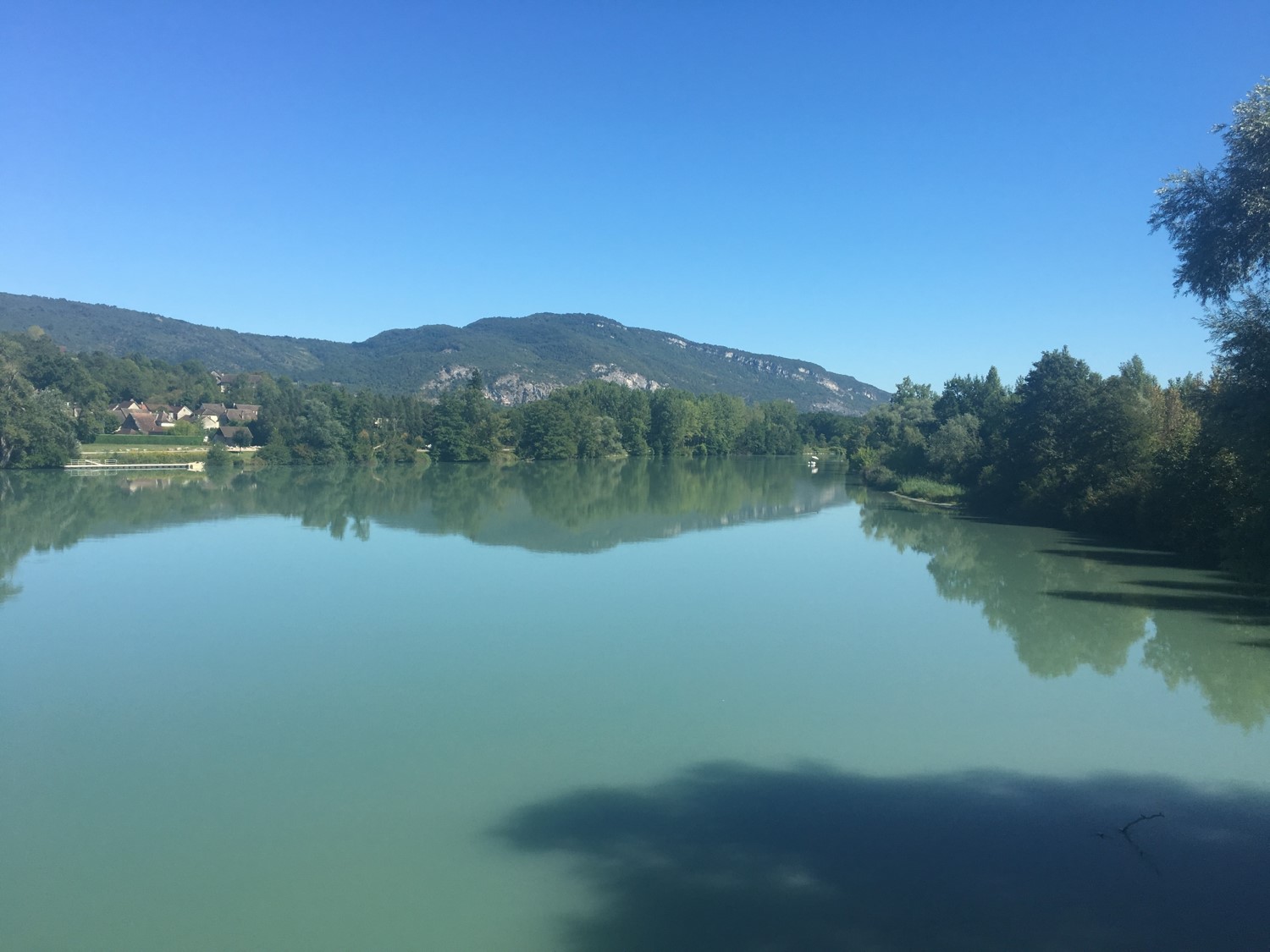 August 23, along the Rhone River
Today was as incredible as yesterday was frustrating. But let me begin by saying that I did not actually ride my bike into the hotel yesterday. I scooted along for a bit, and then walked it. I exaggerated in my report, but the women were as horrified just the same, that I–dressed somewhat like superman–would barge into their lobby with a very large bike.
OK–I got a really early start today. Somehow, I have lost a day on the schedule that I put together only a week ago and I have only three days to get to Geneva, instead of the 4 that I had planned. So, I had to make good time today!  I headed East out of Lyon. I had a Google maps bike route to take me to an arbitrary point outside of the city, but it still took me through downtown rush hour traffic. This was really scary–cars everywhere with a European attitude. Then, I had an idea. It turns out that there were a lot of people on bikes on their way to work. So, I just got behind someone who knew where he/she was going, and did what they did. When they ran a red light, I did so too. When they went the wrong way down a 1-way road, I followed right behind. It was great! Google maps eventually put me on a real bike path heading east. I went for about 8 miles on this, and then it had me turning north to a different road. Sure enough, I encountered a blocked path. I could have got around it, but i know better by now. Instead, I found my way to the nearest highway that paralleled the bike route and followed that for some time.
I made really good progress. Before noon, I had travelled 50 km. Eventually, I decided to give the bike route a try and turned off the highway towards it. The route was a good road with almost no traffic. The cost? Longer, and a killer climb that I would not have had if I had stuck to the highway. But, then, if I had not taken the bike route, I would not have seen this view of the Mont Blanc Range.
This is the first snow on the ride since the Yukon! And I wouldn't have had this awesome experience of riding underneath this bridge….
…nor seen this tree growing out of a really old boat
This is trip is not about making miles. It's about experiencing things and meeting people. I need to keep that in mind.
I need to add that I biked by my 4th nuclear reactor:
 Shortly after this, I encountered a sign in multiple languages warning me that this area could flood even if the weather is good, owing to a damn. Wait a minute–no one would build a reactor in a floodable area…
Thanks to our campground host for helping me out and taking an interest in JWST!
Tomorrow will be an 80 km day, which will leave me only 30 km for the ride into Geneva. I will be giving a talk at the Observatoire de Sauverny. The nice folks at this Observatory are going to put me up for two nights!
I hope to report in tomorrow.
Scott