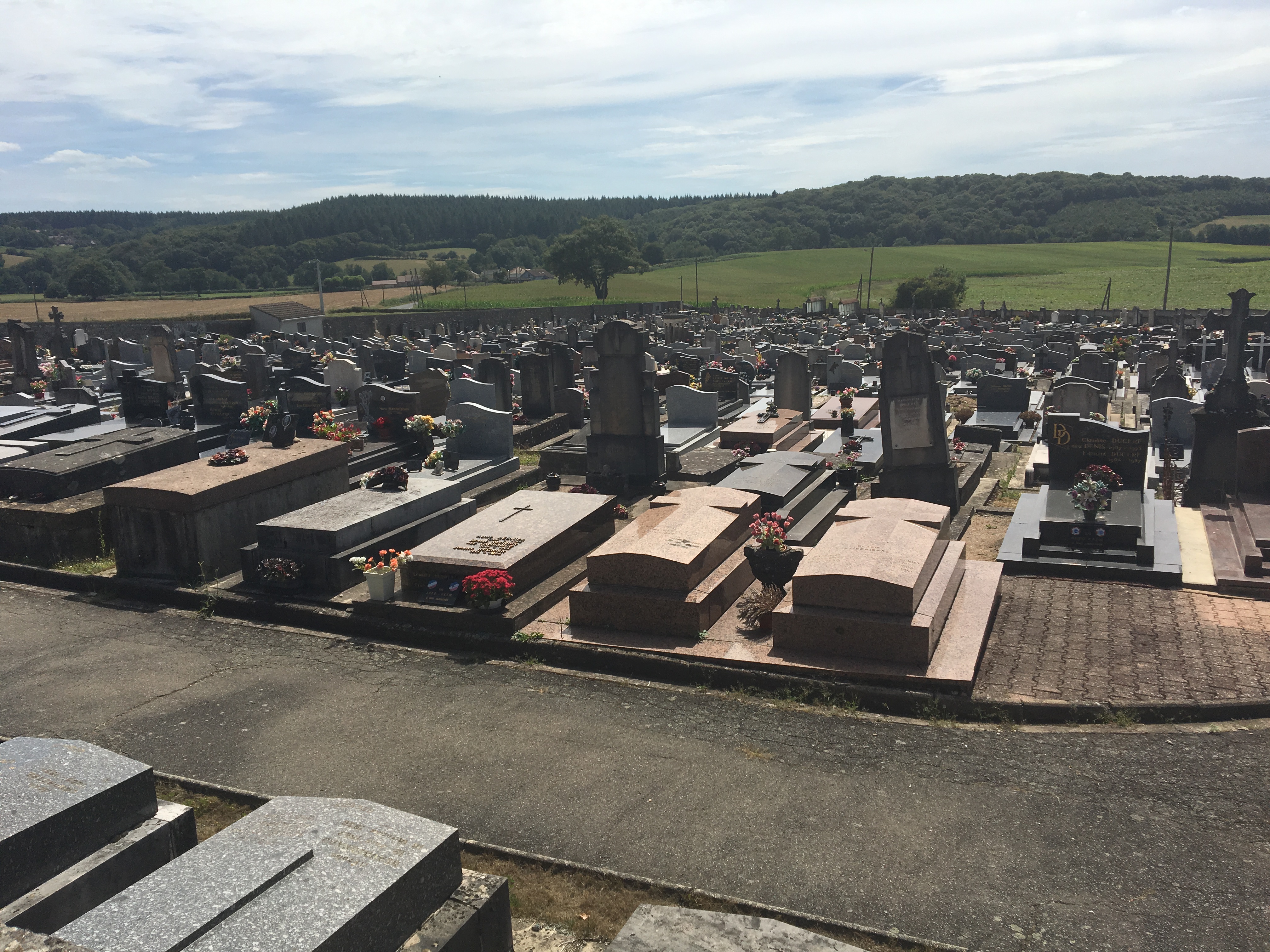 August 20, Gigny sur Salone, France
Yesterday was a pretty tough day cycling. I knew that if I wanted to get to the only ACSI campground (which is all my app will show me) I would have to ride 120 km–not impossible, but further than I am used to. So, I set out with the idea that I might find one of those municipal campgrounds that are a bit cheaper and more common.
The route proved to be somewhat difficult owing to the fragmented nature of the paths and the hills. I was off pushing my bike up several hills; one of them must have been a 20% grade. At one point, I met a fellow rider and I was getting quite tired. He didn't speak any English, but through Google translate, I was able to communicate to him where I was going, and the path–Euro Velo 6–that I was following.
He was quite insistent that I needed to go through town rather than follow the path. In the end, I ignored him, only to find myself on a narrow dirt path, pushing my bike up an impossibly steep hill, and a LONG drop off to my right. I guess they figured that the cyclists would want to see the incredible view or something.
You don't see much modern Christianity in Europe and when you do, it stands out. I biked by what looked like an enormous tent-style revival meeting. It looked like there were thousands in attendance.
Later that day, I met a couple who were cycle touring with 3 kids. The two youngest were in a trailer pulled by the mom, and the dad pulled their daughter on one of those tag-alongs; the kind that retain the front wheel so the kid can ride independently. He had a book with detailed pages of each section of the bike route. His book clearly showed a number of campgrounds that were not in the ACSI guide app.
This gave me an idea: why not ask Siri if there was a campground near by? I did this and found a campground, but it was about 5 miles north of where the cycle route would take me. From my navigation app, I could see that if I were to deviate from the cycle route, I only had to follow two highway routes and it would take me directly to the campground. I was running out of steam, and I just could not afford to ramble around following this cycle route any more. So, I committed to deviate from the route and follow what I presumed would be much easier "highways."
On the way, I remembered what my new friend Amen said. "If you are cycling and you get in trouble, you can always camp in the graveyards. Just ride to the edge of town, find the graveyard, and pitch your tent. People will leave you alone." I passed this one, and it left me quite committed to finding a campground.
The first highway was really good riding. The problem with these highways, however, is that you can't just zone out. You really have to pay attention to the traffic, as there is no shoulder and the roads are narrow to boot. So, no books on tape or music. But, overall the ride was good.
Then, I turned right to get on the second highway; 12 more miles until the campground. The first 8 were a continuous climb that would have rivaled any hill that I tackled in the Yukon and Alaska. This really put the old ticker to the test! And, what can i say? I'm writing this blog.
On the way down the other side I remembered that Google maps frequently gets campground addresses wrong. I'm not sure why, but it's true. I realize that I might end up having to look for a graveyard…
Eventually, I did find the campground. It was an older, municipal variety and suited my needs perfectly. They even had power outlets near many of the spots and I picked out that would allow me to charge my electronics right there next to my tent. Oh–and get this: it had those old style French toilets. You put your feet on these two pads, presumabley there as an auto-alignment fixture. You know, to keep you from missing the hole in the floor. And then you do your stuff. I stopped short of taking a picture.
I met a large extended family that was camping; they offered me a glass of wine and invited me to play a game of bocce ball with them! Later, I checked my email and saw that I had quite a few messages from friends and family, congratulating me on not dying of heart problems (see previous post). I have to confess that, this outpouring of support brought me to tears.
The night was comfortable, and I slept well until I awoke at about 6 AM to heavy rain. Breaking camp in the rain is hard, because you have to do things in a specific order to keep things dry. Later that morning, a couple I met invited me into their RV to keep me dry. They offered coffee and food and good conversation–using Google translate to help with the harder bits. I am sorry that I never did get their names. But here is their picture.
The gentleman said he used to work for Kodak. By the way, he created his RV from a van himself, saving a lot of money.
I took off in the rain, determined to get 40 km in and had an uneventful ride to where I am now. Tomorrow, I hope to work a half day, and then cycle another 40 km. Until tomorrow!
Scott