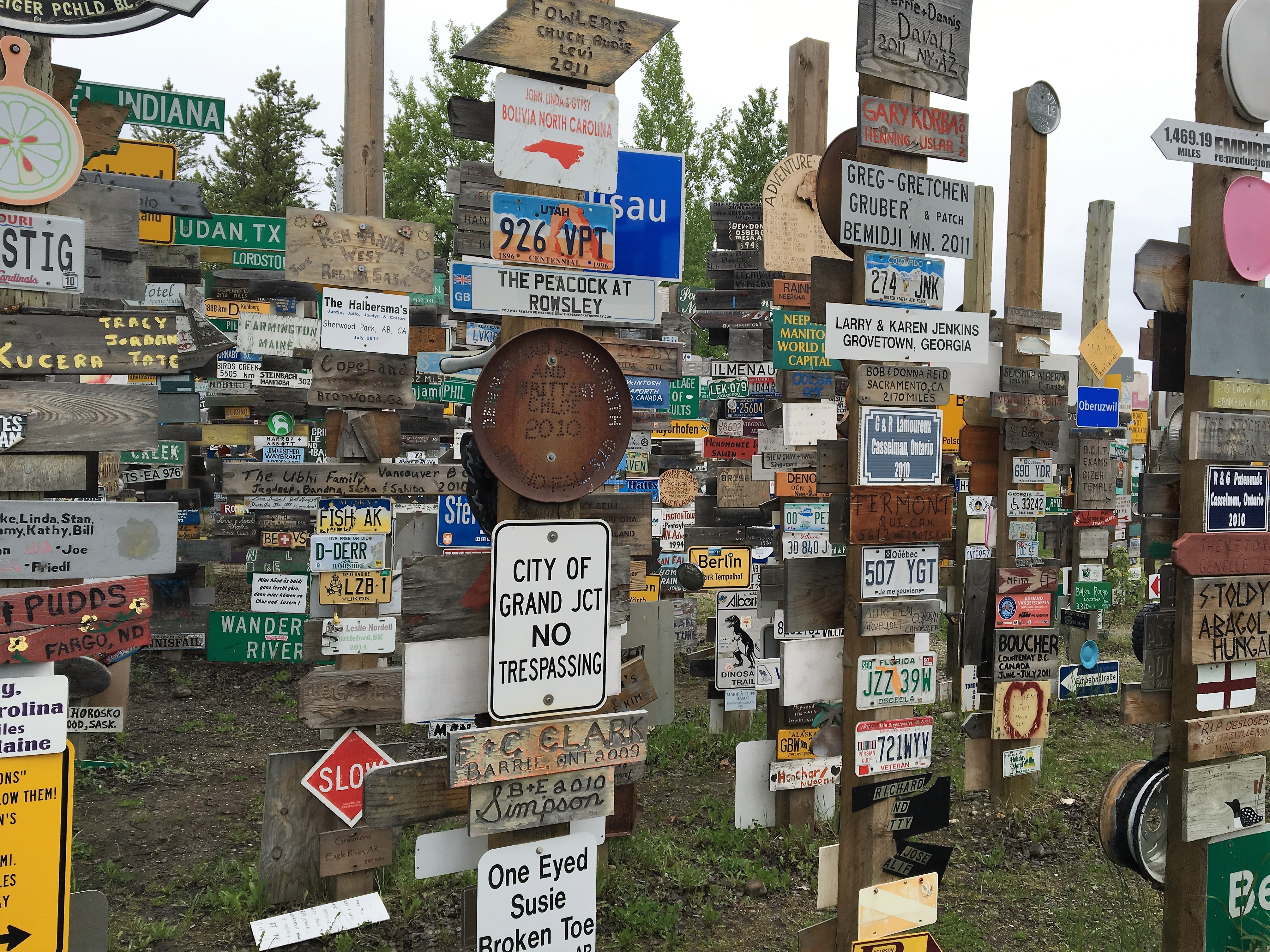 May 27th, Watson Lake, Yukon Territory
We are currenty in Watson Lake in the Yukon Territory. Watson Lake is considered the gateway to the Yukon. At the center of the town is the world famous "sign-post forrest" where official signs from thousands of towns are displayed. We found this one here from NASA!
I have been sick with a cold for about 10 days. As you can imagine, my doctor (Eric Hernandez at Alpine Woods Medical) outfitted me with every conceivable prescription drug that I may need in the coming year. But I didn't bring along any common over-ther-counter drugs. Why should I? They could always be purchased at any common drug store. The problem I have run into, however, is that there ARE NO DRUG STORES, or any stores for that matter! We are really isolated out here. I once went into a gas station asking for cold medicine. The owner offered me two tylenol. That's it! So, I have endured this cold essentially drug free. One night, the cold moved into my chest and I was certain that I had pneumonia. I thought that this might be the beginning of the end of the ride. But I am have turned the corner on this bug now.
A few days ago, we passed through a town where a small First Nation store had a few drugs under the counter by the cash register. Yea! There was a drug that mixed benedryl with pseudofed, 30 mg. It was a life saver! I noticed an additional benefit from this drug. Every since I started on this ride I have been bothered by how difficult it has been to get my heart rate elevated; it seems to hover around about 100 beats per minunute no matter what I do. But–with the pseudofed I was able to get the heart rate much higher, and I felt like I had tons of more energy. Apparently, pseudofed is the cycleist's best friend.
Strangely, being sick has slowed me down, but only to a point. I still have been able to bang out 40 or 50 miles each day.
Now for a bit of catching up. In Toad River, we opted to split a cabin 3 ways rather than camp. The cabin was on a lake full ducks diving for stuff on the bottom. Spectacular!
We left Toad River the morning of May 21st, on our way to Muncho Lake. On the way, we passed one of the most geologically interesting mountains I have ever seen.
When you look at this mountain close up, you can see geological layers that have been bent by more than 135 degrees due to pressure.
The rivers along the way all had this blue look, due to the spring runoff. Magical!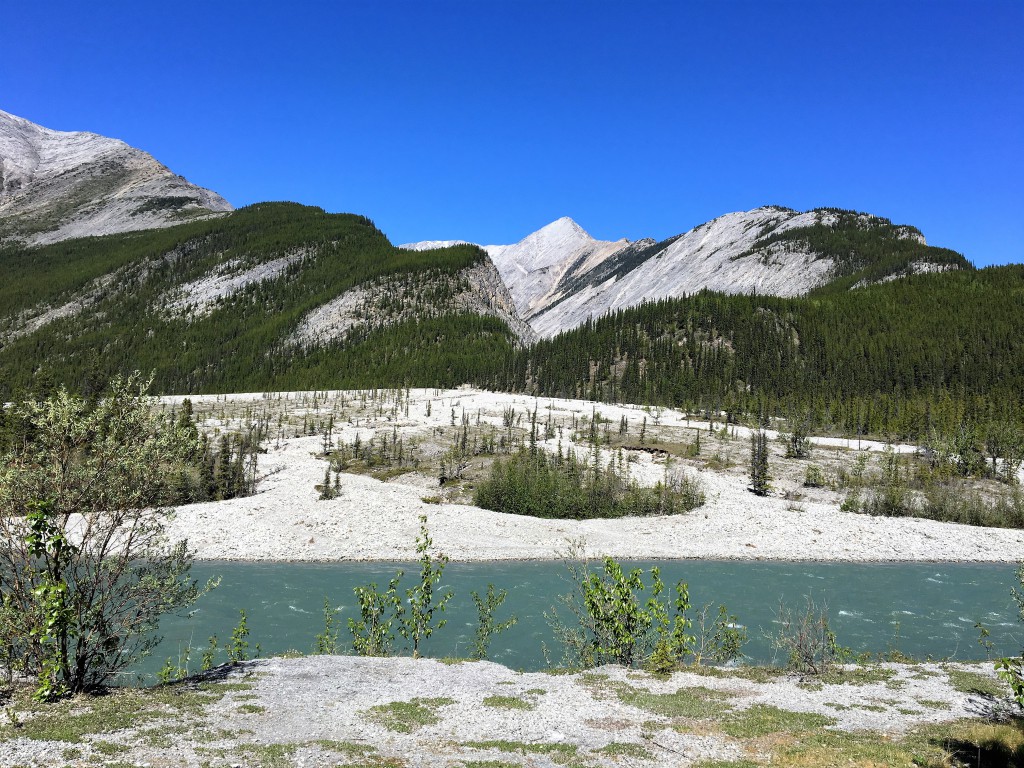 We met a local cyclist (Doug) who showed us a good area for lunch, near one of these rivers. Doug owns a couple 5 acre parsels of land near here that he'd like to sell. (Doug–be sure to respond in the comments section with your contact info. Maybe someone will call you!)
Of course, Elizabeth could not stay out of the water!
Eventually, we landed near Muncho Lake, and ended up camping at the lodge.
Muncho lake is crystal clear and about 400 feet deep. You can take a float plane from Muncho Lake to many remote areas for fishing. I'd sure like to do that some day. The morning of May 23rd, we started the 40 mile ride into Liard Hot Springs.
While looking for a place to camp at the official camp sight, we ran into some people that I had met a few days earlier on the way to the high peak on the Alaskan Highway. I sure wish I could remember these folks' names, but they were life savers, in that they offered me a couple of beers to take back to the camp site.
I need to tell you that it can be a LONG ways between watering holes in this part of the world, especially for a cyclist. That's how you know that you are really roughing it. W. C. Fields has been quoted as saying, "Once, during prohibition, I was forced to live for days on nothing but ordinary food and water." So I was happy to get the beer. Later, a nice women from the First Nation lodge made a similar gesture and I was doubly blessed.
The official campground was full and we had no choice but to look at a secondary spot. It was a good area and it was starting to rain quite hard. We began setting up camp, when Allen noticed that we would not be camping alone that night:
Can you imagine what would happen in one of these creatures were to step on you in the middle of the night? Allen–who sleeps on the ground without a tent–decided that he would be happy to pay for a hotel room for the three of us…. we all moved to the First Nation lodge. Later, I witnessed 2 of these fellows engaged in a brutal fight. That evening, the rain stopped and we figured we should head on over to the Liard Hot Springs for a swim. We had been hearing about this hot spring for about 500 miles now, and had built up quite a bit of anticipation. I was not disappointed!
The hot springs are really more fresh water than mineral, and are in the middle of a large swampy area.
As such, the vegitation comes right up to the edge of the pool:
The next day, we rode from Liard springs into Coal River, about 40 miles, and camped at a local RV park there. It is amazing how the friendliness of the proprieter of a campground can affect your experience, and we really enjoyed this place. They offered a gazebo type fire pit where Allen made us a campfire.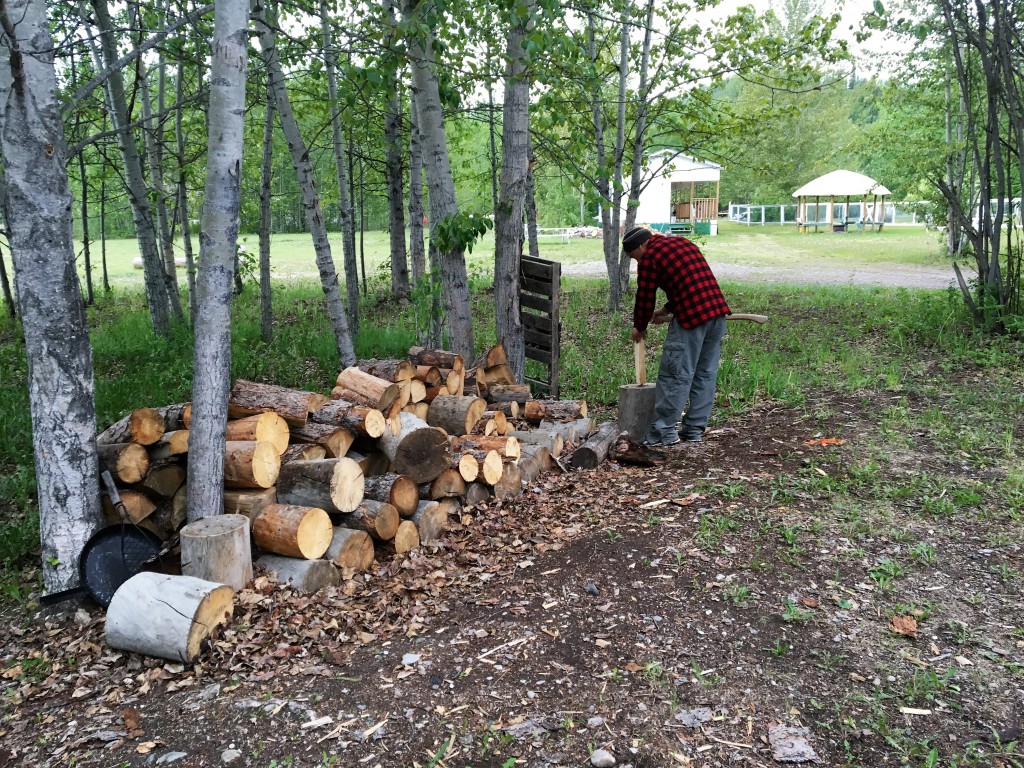 The campground bosted an official "bear dog" that promised to chase off any dangerous wildlife, so we didn't have to worry about bears that night. In the middle of the night, I heard something walking near my tent and, sure enough, then dog came around barking and the intruder ran off. Who knows….
On May 25th we had an easy ride to Contact Creek. Along the way, we ducked into the Yukon Territory briefly; someone was nice enought to put this sign at the location.
Because I confused the spot where the creek crossed the road and a gas station with the same name, we ended up camping in a primative area, just 1 mile short of an established camp spot. We all got a little wet as it poured the entire night, but Allen got the worse of it, sleeping without a tent. Because of this, we figured we'd have to take a day off in Watson Lake, most likely sleeping in a Hotel for a day or two. On the way into Watson Lake, we crossed the Yukon border again, and passed a nicer looking sign there too:
In addition to the sign post forrest, Watson Lake boasts the Norther Lights Space and Science Center.
I tried multiple times to contact this organization to see if the community would like to hear about JWST, but I could never get them to even respond to an email or phone call. That's the way it goes with this type of a tour–sometimes the most unobvious places proved to be the most interested. The opposite is also quite true.
Tomorrow we have an ambitious ride–74 miles–to Rancheria, YT. My guess is that the next internet option will be Whitehorse, exactly a week from today. Today I got a pleasant surprise. My wife, Heidi, came to the Yukon to spend a few days with us! She will drive along the Alaskan Highway and help run the camp each day. But I'll talk more about that next time.  See you then!