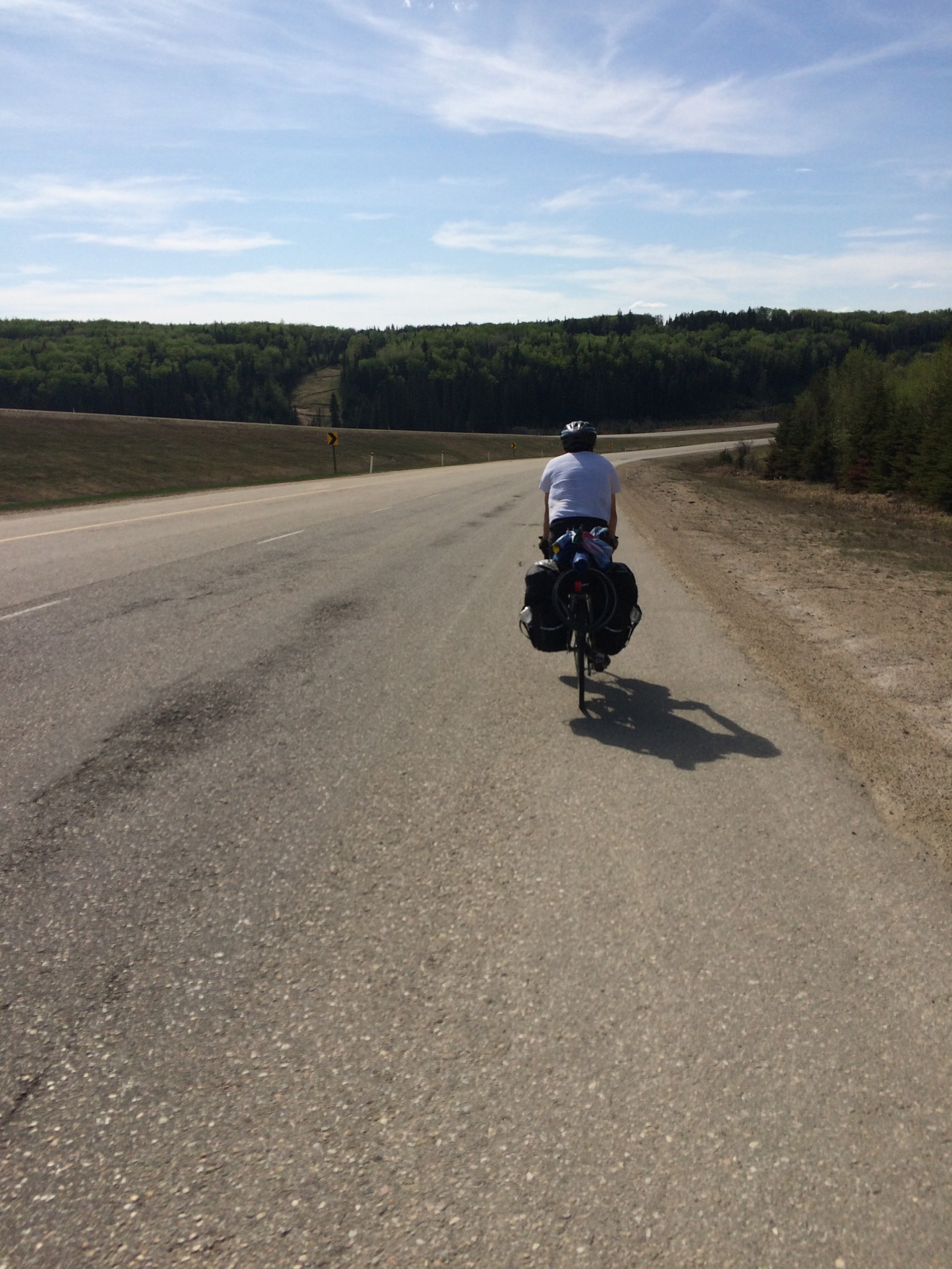 May 6th, Grande Prairie, AB
Hi Folks!
I have been without internet for several days. I am currently in Grande Prairie, AB at the home of Andrea and Jed Locke. The Lockes are hosting us for this evening; I met them indirectly through warmshowers.org
A little catching up. We left the Sagitawah campground in Whitecourt, AB. Normally, I would say that any campground is the same as any other. But this place was nice. The people managing the site were incredibly helpful and friendly. Further, we were greeted by two kittens as we registered.
An early start out of Sagitawah put us on a road for what would have normally been an easy 52 mile ride into Fox Creek. Numerous hills and moderate headwinds, made for an exhausting ride. The scenery made it worthwhile, however.
The next day was a 70 mile ride to the Sturgeon Lake campground. We had a couple of firsts on the ride: the first mention of the Alaskan Highway
and the first sighting of a bear. (A startled deer was a clue to the bear's presence.)
The 70 mile ride was plauged by headwinds. I ended up drafting about 30 of those miles and saved a bit of energy. But when we arrived at the campground near Sturgeon lake, we found that is was closed. We were all prepared for a bit of "stealth" camping, but noticed that there was a "Golf Resort and Campground" nearby. Another 4 mile ride took us to the resort. After talking with the manager about where to camp, it became clear that she thought we were coming with a camper or an RV, and that "their campground was not set up for tent camping." The reason given was that there was no bathroom for tenters to use.
I explained that we had no choice, as we had used up that last bit of energy cycling to their campground. It was let us camp or cary us away. The manager eventually capitulated and asked us to set up camp near the bathrooms and showers. (Wait, I thought they didn't have restrooms?) When I asked if we could fill our water bottles, they said "no." Aparently, they had to purchase their water, as what came out of the taps was not potable. They did allow us to purchase some at $2 a pint. Nice!
What an exhausting day! After all of this effort, what do you suppose we would have for dinner?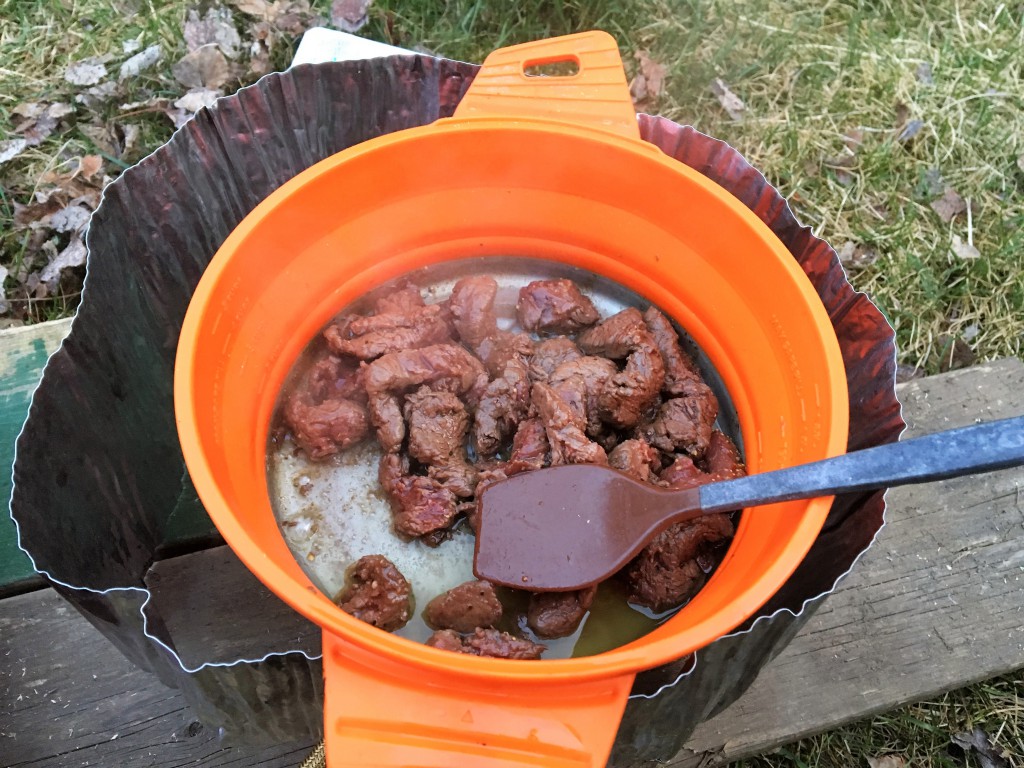 Yep–you guessed it. Elk tenderloin. Absolutely delicious. The previous evening, a gentlemen came by and gave us a frozen tenderloin, from an elk he shot himself. I wrapped it in a towel and kept it wet during the day. The evaporating water kept the temperature low, and the meat unspoiled. Of course, we mixed it with Ramen noodles, but it was great nonetheless.
The next day, we encountered very bad head winds and needed to lay low. So we decided to stop in Debolt, AB. On the way, we passed a small general store. While we sat and had lunch, multiple customers came and purchased donuts by the dozen. We spoke with a women–the genius behind the donuts–and aparently they cook and sell donuts by the THOUSANDS each week. I tasted one (yes, I know it is not on my diet) and I concur that they are without a doubt the best donuts in the world. The dough is soft rather than filled with air. Hard to describe…
The ride today into Grande Prairie was uneventful except for a killer hill at the half-way point.
Once in town, we stopped at a bike shop (Fourword Bike and Board) to purchase a tire, and to talk to the mechanic about my derailer (still giving me some problems, although much improved after affecting the repair suggested by the Boulder Bikesmith.) This shop had two dogs who begged for attention constantly. They were a lot of fun, chasing their toy! One of the dogs even crapped on the floor for an authentic look.
Tomorrow we start a 2-day treck to Dawson Creek, the official start of the Alaskan Highway. Until next time…