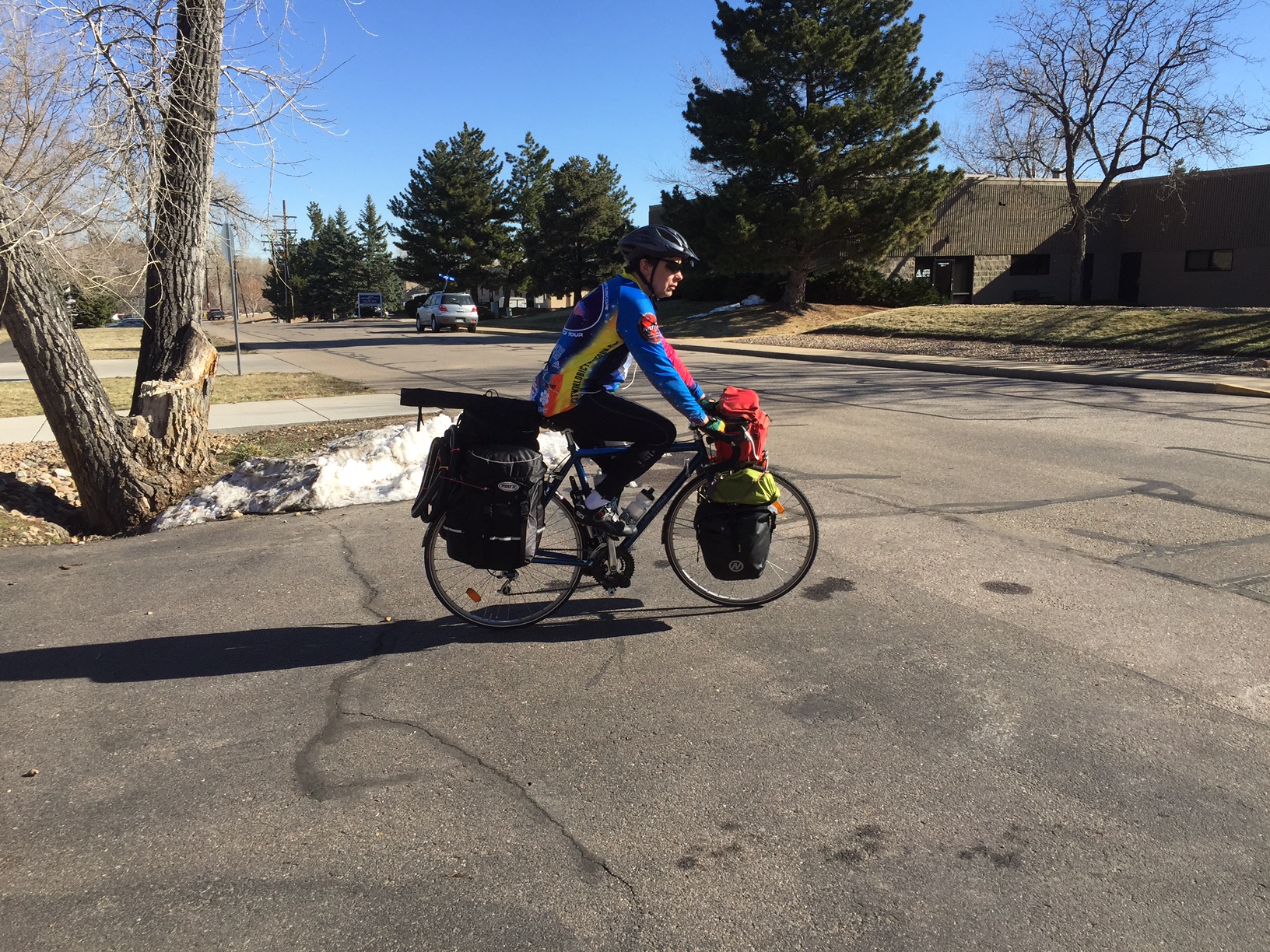 1 April 2016, Fort Collins, Colorado
Hi everyone!
Well, I finally did it. I am now officially biking around the world, to promote the James Webb Space Telescope. My daughter, Stacy, took this shot as I rode away from the departure breakfast at Ball Aerospace.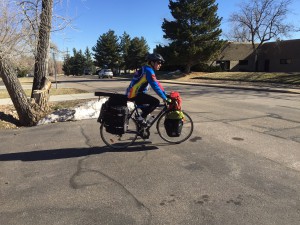 I make a quick stop at Ozo's coffee company to pick up a pound of Sumatra and then it was off to Fort Collins.
The ride today was quite a bit harder than I had anticipated, but very enjoyable. Thanks to an article that run on the **front page** of the Boulder Camera today, about a dozen people stopped me and asked if I was "that guy." It is kind of fun to have people take an interest in what you are doing. Here's the article if you want to read it.
I made a judgement error when planning the route for today. I wanted to ride by Carter lake since I have been there many times and am familiar with the route. However, the road is under construction and labeled as "closed." I asked a passing motorist if a bike could still get through. The young woman assured me that I could get through. Oops. I forgot one of the important rules of cycle touring:
"Some people want to be helpful more than they want to be accurate."
So, I rode a mile or so and went down a very steep hill until I encountered a 15-ft deep trench across the road where they are replacing a bridge. Even on foot I could not have got around it. So, it was back up the road and then onto a length detour, adding more than a few miles to today's ride.
To top things off, there was a moderate headwind for much of todays ride. So, although I got on the road at 9:30 AM, I did not arrive at my destination until about 6:45 PM, making for quite a few hours in the saddle.
On the web site www.warmshowers.org, I connected with Mike and Libby Edwards who offered to host me for the evening. What nice folks! I had a beer in my hand before I sat down, and a nice dinner and conversation, followed by a shower and a warm bed. I really and thankful for their hospitality!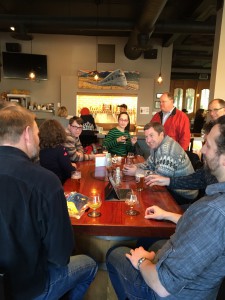 Last night, we had a celebration for the ride at the Powderkeg in Niwot. It was nice to be able to say a proper goodbye to so many of my friends. Tomorrow will need an early start, as I cycle to Laramie, Wy. Heidi will likely meet me for lunch somewhere along the way.
Miles biked today: 58
Miles bikes so far: 58
Money spent today: $10.50
Most interesting thing today: Talking with people who read the article